Wiley X products are put through rigorous testing in order to be ANSI-Z87.1 rated and in the case of some styles, the military's stringent Ballistic VO impact certification.
Frames and lenses must withstand the impact of .25 inch diameter steel ball fired at a speed of 150 fps. Wiley X repeats this test 20 times from different angles to make sure the frames and lenses are practically indestructible
The MARK OF CERTIFICATION
Z87 All components of the frame passes the ANSI basic impact test.
-2 The frames can be fitted with a prescription lens, which is the case with all our
prescription safety frames
+ The lens meets or exceeds the ANSI High Velocity Impact Standard
S The lens is a filter or a shaded lens (not clear)
V Variable tint, transitional, or photochromic (light adjusting)
RX READY
Most all of the Wiley X frames can be fitted with conventional or digital prescription lenses (single vision, bifocal, or progressive) W2 Technologies has an optician available to answer your questions and help with the ordering process.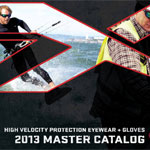 VIEW THE WILEY X
2015 MASTER CATALOG